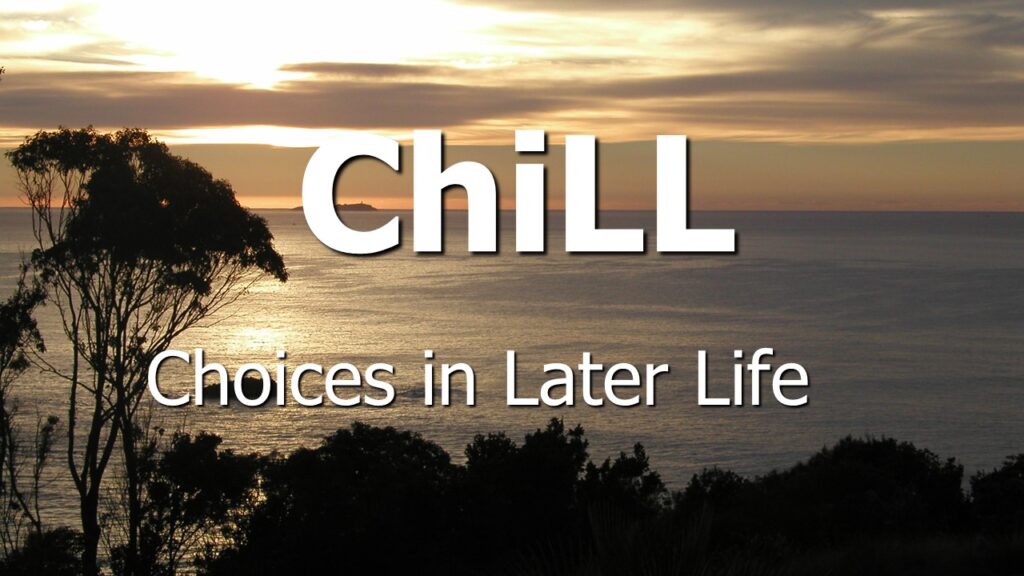 What do We Do?
ChiLL a short seminar program that invites participants to explore their options when planning for death.
Our seminar seeks to go beyond the usual "Making of a Will" and whether to be "Cremated or Buried" and introduces the subjects of:
Enduring Power of Attorney and Enduring Guardianship
Advanced Care Planning and How to Assemble an Advanced Care Plan
How and Where to lodge your Advanced Care Plan
Preparing the Family and Other Carers
To Do List in preparation for Loss of Capacity or Dying
Palliative Care – What it is and isn't and how to access it
Voluntary Assisted Dying – What it is and isn't and how to Access it
Death Doula services including Local Resources
Organ Donation
Funeral Planning and How to Celebrate a Life
The emphasis throughout is a practical demonstration about how to access the resources, services and people that assist in these tasks.

The Seminar
Our program typically runs for 2 hours and ends with a panel discussion with the Speakers, followed by a smorgasbord of takeaway resources for participants.
It is aimed at groups of Seniors with capacity (ideally fewer than 40 at a time) and their Family and Carers, or anyone who works in end-of-life care.
Any space that accommodates such a group is suitable, but good acoustics and a refreshment break is essential, whilst audiovisual resources and a welcoming group seating arrangement is desirable.
Our Contributors
We have a panel of experts who work in the field. They include a doctor, palliative care nurse, a community engagement volunteer in preparedness, a death doula and a (civil) funeral celebrant. They have honed their presentations over a number of seminars presented to groups in Retirement Villages since 2021.
Our Organizers
Max Brinsmead spent four decades overseeing the arrival of lives as an obstetrician but, like a number of his colleagues who were privileged to be part of that process, believes that the medical profession needs to do better at the other end of life. Phone 0409 870 346 Email [email protected] or leave a Note on the Welcome Page to this Website.
Judith Jackson has spent decades as activist and volunteer in the community of Woolgoolga. Judy is a passionate believer in living the best life you can for as long as you can; an advocate for being prepared and dying in comfort and dignity. Phone 0417 923 333 Email [email protected]
Please phone, SMS or email us with your proposal or questions.
Testimonials:
From The Hon. Mark Coure MP, Minister for Seniors NSW Government.
From Judy Halpin, seminar participant.
Resources:
Advanced Care Directives – short notes from the presentation by Jill Nash (.pdf)
Advanced Care Directives (Getting it Done) – Jill Nash (.pdf)
Your Checklist (Preparing for the Inevitable) – Jill Nash (.pdf)
Voluntary Assisted Dying – A seminar presentation by Dr Max Brinsmead (PowerPoint) (.pdf)
Community Palliative Care – A seminar presentation by Nurse Louise De Gabriele (.pdf)

Choices in Later Life – A seminar presentation by Dr Max Brinsmead (PowerPoint)(.pdf)
Choices in Later Life – A seminar presentation by Dr Helena Johnston (.pdf)
Links: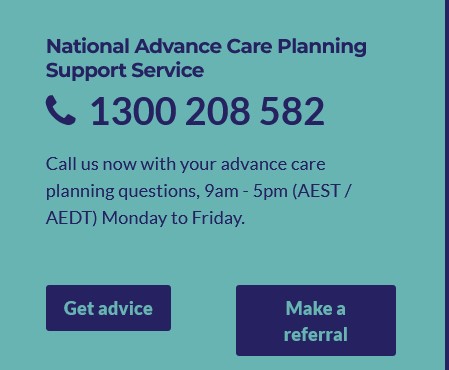 Making an Advance Care Directive – NSW Form and Information Booklet.
Advance Care Planning – A YouTube video that illustrates why it is important.

Appointing an Enduring Guardian – Advice for NSW residents and Form
Dying to Know Day – An annual event, but this website also provides advice about Advance Care Plans, Guardianship, Wills and Super and celebrating a life.
Digital Legacy Association: the global organisation supporting the public and professional bodies with digital assets planning and digital legacy safeguarding. Includes advice about Social Media accounts such as Facebook, Instagram and TikTok.
Go Gentle Australia: Committed to making Voluntary Assisted Dying (VAD) available to all terminally ill Australians.
Dying with Dignity NSW: Committed to making VAD available as a choice in NSW.
Carer Gateway: Advice, support and training for Carers with options for Emergency Respite Care (after registration and interview)
Seniors Rights Service: a community organisation dedicated to protecting and advancing the rights of older people
Palliative Care Australia – with advice for patients and carers including how to access these services
M Brinsmead
21 March 2023